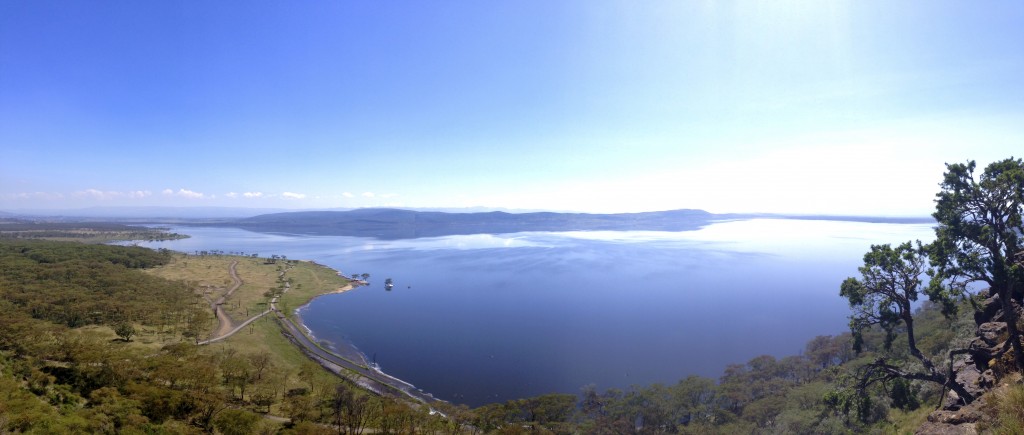 On December 15th, I arrived in Nairobi Jomo Kenyatta Airport. First thought: confusion. The sign said "Customs" with arrows pointing in BOTH DIRECTIONS. Ok, thanks sign. If you told me the airport was circular, I may have understood a bit better,unfortunately, I was not so informed upon arrival. After deciding to go left, I did make my way out of the airport and into immigrations & customs. Note to other travelers to Kenya – it's quite easy to get a visa upon arrival for US Citizens – but will take a few more minutes than just getting a visa stamp.
Then out into the arrivals hall, I began my search for Yaya. Luckily she found me, and then we were on our way to the Sarova Panafric. (The Sarova Panafric was an ok hotel – clean, but not worth the price I paid…USD$120/night) Up to the room where I began to give Yaya and Dori all their goods they wanted me to bring from America. The most welcomed item? The cheddar cheese Goldfish. Who knew? Also the grapes and PB&J sandwich (which travel well by the way).
We negotiated with a private driver in Nairobi to take us around the next day. He told us USD$150, but we settled for USD$100. Unfortunately, after 8 days in Kenya, I realized that was A LOT of money. We could've gotten away with USD$65-75…
On December 16th, we woke up to the Circle of Life. From there we proceeded to have breakfast and then clamor into a private car with our driver Josiah.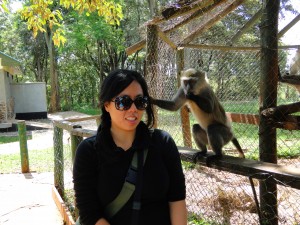 From there we headed to the Animal Orphanage. Walking in there are birds, warthogs, lions, giraffes, cheetahs, monkeys, and hyenas. Best to pay with USD. There were quite a few lions, but the most interesting areas were with the monkeys. They put food on our head and let the monkey eat all the snacks. Thanks monkey for pulling my hair.
The animal caretaker took us around to each animal to check them out. Super nice guy. Afterwards we headed to the AFEW Giraffe Center, one of the few places featuring Rothschild Giraffes that you can feed. The giraffes eat the pellets right out of your hand, but don't appreciate petting. You can even put a pellet between your lips and let the black tongued cuties lick it out. (Mrmmm).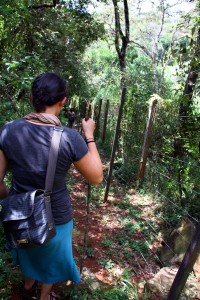 At the Giraffe Center, there was also a nature walk. Not my idea of a good time, but I obligingly followed. Then we got lost. Of course. I pulled out my iPhone to use the compass (it works it works!) and we found a fence (which then turned into an electric fence) to walk along until we found the exit. I felt like I was in the Hunger Games. Luckily, the fence was not on. It's actually meant to keep the giraffes in…
After hiking, we headed back to the heart of Nairobi to go to grab lunch (turned out to be chicken and chips in an all-local place… we were so out of place), and then over to the matatu area on River Road to catch a matatu to Lake Naivasha. It was my first time in a matatu, and we overpaid. $400 Shillings (approx USD$4.50-$5). It probably should've been $2.50 Shillings (or $3-ish USD).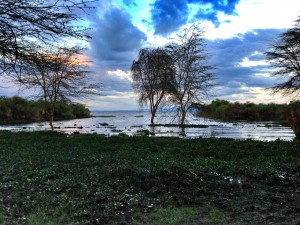 We drove up the Rift Valley to Lake Naivasha where cab drivers hounded us to give us a ride to the place we wanted to stay at… for $3000 shillings. TOO EXPENSIVE! We ended up finding a matatu that took us for $0.80 shillings – or USD$0.95. We went to Fisherman's Camp which was full and then walked next door to Camp Carnelley's where we had a fun game of charades with the guard who didn't know any English. Finally, we got a 2-bed room to share…
Cement floor, 1 light socket, bathroom outdoors. It was a rustic way of life. I learned how to use the mosquito net for the first time here. Dori ended up taking a floor spot, and Yaya and I both took the beds. Before we turned in for the night, we took a walk by the gorgeous shores of Lake Naivasha during sunset. Dori spotted some tents and said that we should've gone camping. I was convinced that we would have had to have our own tents (we later found out this was not true, but I'm glad we didn't go camping).
On our way back from the shore, we nearly hit an electric fence. They had put it up as dusk hit to prevent any hippos from entering the camp site. Many people don't know that hippos are EXTREMELY dangerous. Yaya is deathly afraid of them as she was almost killed by one while kayaking in Cameroon.
We managed to get over the fence, which was luckily, not turned on yet. We headed over to check out the restaurant (but did not eat) before heading back to our room. Yaya and I decided to take a shower before bed, and we had to trek over to the shower area in the dark with only our flashlights (very helpful), but the open air showers reminded me of true camp showers. I'm just glad I had my flip flops.
The next morning, December 17th, we woke up and I was determined to have a real breakfast, so I headed over to the restaurant to have sausage, eggs, grilled tomato, toast, fresh fruits, tea, and juice. Yaya and Dori gladly ate everything I had leftover (they're funny, they didn't want to spend any money even though it was like $6 for a big breakfast).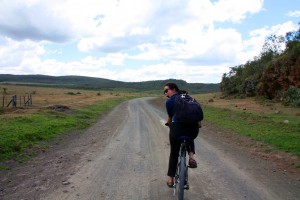 We walked over to the gate area to ask about bike rentals, and we rode around the driveway testing some bikes until we were satisfied. We then rode off down the road toward the Hell's Gate National park entrance. The ride from the road (which is cement) into the park (which is dirt, and uphill into high altitude) was one of the worst rides I've ever been on. I felt like throwing up and was in a ton of pain. Dori too was in a lot of pain. Yaya, was fine (I don't know how). Dori and I sat in the parking lot of the park entrance for a good 30 minutes before we even considered riding into the park.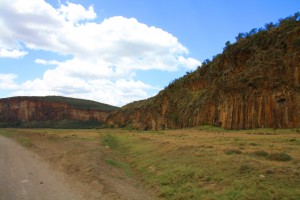 I'm just glad we did get in ok, because the park is AMAZING. There are no major predators in the park (well the occasional lion or cheetah, but very rare), so you get to go on bicycle safari! As soon as you go in you're greeted by these amazing red cliffs. It's said that The Lion King's scenery was based on sketches from this park.
We wanted to ride through the park to the ranger's station on the other side (approx 5 miles or so?). Within minutes we were greeted by zebras, giraffes, and antelopes. It's seriously one of the most surreal experiences to be biking and suddenly you're very near animals that you'd normally see in a zoo.
Kenya really is like a zoo. A zoo I badly wanted to be a petting zoo.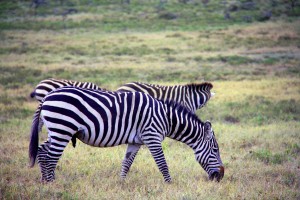 We rode for what seemed like ages, passing tons of animals. It began to rain a little, so we sped it up a little (by that point I was used to riding and not winded any more) and headed to the safety of the ranger's station on the other side of the park. There we sat under a picnic awning for about an hour until the rain stopped. We were approached by this totally inappropriate animal…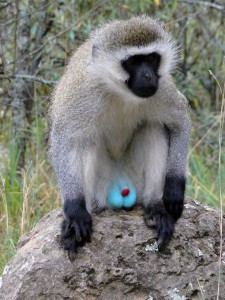 Yes, he has bright blue balls. Evolution is a silly silly thing, isn't it? Well, we named him Gerard. He hung out with us, waiting for the minute some of the trail mix Dori was munching on would drop to the ground (his hour long wait only produced 1 fallen peanut). Us, on the other hand, got a 30 minute "show."
Gerard, put that away.
After it stopped raining, we rode back through the park. We saw a lot more zebras, water buffalo, antelopes, warthogs, giraffes… what's weird is, it gets kind of boring after awhile… you just want to see something new.
Well, we exited the park, and I desperately wanted internet so I headed toward the Simba Lodge (which was actually VERY far…) and got to use the internet for free (it was not very good, but I got some tweets out, checked emails, and called my mom).
Afterwards it was riding back to the camp. I didn't feel like eating out in the little shanty village (when I say shanty village, I really really mean shanty village, trash everywhere, it was a mess). I ended up going to the restaurant and getting crawfish spaghetti. Yaya had some sort of crawfish dish too, and a Tusker (pride of Kenya) beer. Both dishes weren't very good, but I really wanted something that wasn't made in a hut.
Afterwards we went back to the room and were totally exhausted. The next morning, December 18th, we were heading up to Nakuru, so we needed to prepare ourselves. We woke up relatively early, packed our bags and checked out. We rode the matatu back to Naivasha proper where we found the bus station quite easily (tons of other matatus and people milling about). We went to a hole in the wall to eat chapati, ugali, and beans. Let me just say, you get really really sick of eating chapati, ugali, and beans every other meal, but that wasn't until later.
We headed to the bus station where tons of people flocked over to us to see what we wanted. We began negotiating our ticket price. We wanted to pay 200 shillings (about $2.50) for a ride to Nakuru. Everyone was telling us 500 (about $5.50).  Something about it being a "holiday" rate, but Dori wouldn't budge, she knew they were taking advantage of the fact we were foreigners. We walked away and asked someone what the normal price was – it was indeed around $200 shillings. We walked back over and started to negotiate again, and finally they gave us the rate. A Kenyan man also decided he'd try to hit on me by "bending over" to look at me under my Michigan cap. I was asked for my number, and Yaya shoo-ed him away. Only to hear him say "Why? I like her! She is young!" I yelled back "I'm older than they are! Much older!" Aw man, I looked like a little kid in my Michigan hat and braid.
So away we went to Nakuru, a ride where I was definitely squashed, but it didn't matter because that's just how they do things in Kenya. We arrived in Nakuru and walked through the streets to locate the hotel we wanted. We go there and we were greeted by a man who set us up in the hotel, but also wanted to talk to us about tour trips. We settled into a room in the hotel (it was clean, but very very very basic).
We went and talked to the guy (Spoonbill Tours, they were ok for Lake Nakuru, but not recommended for Masai Mara) and agreed on a few things for a tour of Lake Nakuru National Park and also a trip to the Masai Mara. We paid him, but later we found out some not so great things about the tours, and decided to go to Pega Tours (recommended, super nice people). We managed to go to Pega Tours, talk about a new rate for Masai Mara, and also manage to get in on a homestay with the tour operator's family (how these things happen, I don't even know). We spent the rest of the day just hanging out in the town, I found wireless at a cafe. We also had to go back to the original tour guy to get our money back and cancel the trip with him. He was not happy. We told him we had to go back to Nairobi. Luckily he didn't try to scam us… Anyway, we didn't do much except go eat on a balcony overlooking the market. Oh, the one "big event" of the day was that I thought I lost my phone at one point. LUCKILY Dori went back to the hotel for me and found it in my bag. Thank god. I was so so so upset.
The next morning, December 19th, our goal was to just hang around town since we didn't plan on going to Lake Nakuru until the next day. Yaya and I wanted to go eat at a meat place, but we also wanted to check out the market and visit a grocery store. We didn't really do much that day besides laze around, but all was well. I used some more wifi which was great, but nothing too eventful happened. At night, Dori had bought some boxed wine and really really wanted to go clubbing. Somehow, after an hour or so of trying to convince us, Yaya and I changed and went out. (During the process of convincing us, she showed us what "mirror dancing" looks like. Let's just say it's hysterical).
We first went to some club in the guidebook. The music wasn't too bad except NO ONE WAS DANCING. We went outside and Yaya kept pointing to some place across the street that she thought would be good, but we ignored here and we walked through completely deserted and creepy streets to another bar, where it was COMPLETELY EMPTY (good music though). There a guy approached us, named Richard (who later turned out to be a Nakuru native turned pro-golfer in Texas) told us he'd drive us to another "club" that may be bumpin' even though it was only around 10pm.
We got to this other place that had a good amount of people but TERRIBLE music. Dori made us stand up and dance to TOTO. I mean seriously, the only people dancing were the non-Africans, to TOTO of all things. We somehow got a ton of other people dancing, but the music was awful. This guy decided he'd hone in on Yaya and dance with her and both Dori and I totally just let it happen.
We finally escaped the terrible music and took a tuk-tuk back to the club where we had met Richard (where the music was good). Unfortunately, no one was still there and Yaya really wanted them to play some Nigerian song she really likes (and I can't remember what it was called). We didn't stay long and then left to go back to club #1, which again, we didn't want to stay. We finally listened to Yaya and ended up at the spot across the street… which was strangely… FILLED WITH PEOPLE DANCING. My issue was, as soon as we walked in, someone grabbed my ass and I didn't want to play anymore. My back went straight to a wall and I sat there the rest of the night while Dori and Yaya danced. Luckily they didn't leave me alone long because some performers came out to start dancing. Then began the strangest, but greatest?, performance ever. These guys were dancing with moves I've never seen anyone do (for so long anyway). Their shirts came off at one point, and ladies were just throwing money at them. (Since when did the Thunder Down Under become popular in Kenya? Just kidding).
Anyway, we went home not long after the performance ended and went to sleep. The next morning, December 20th, was a 6am wake up to go to Lake Nakuru. We had an adorable little jeep that had an open top so you could stick your body out. When we got into the park, there was a hippo that was still hanging out, even though all the other hippos were in the water. He was supposed to go back in since he'd get dehydrated quickly due to the sun, but he wanted to mange a bit more.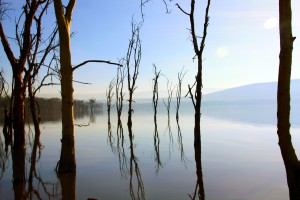 We drove through this AMAZING park. I can't even put into words what it was like, and the photos definitely don't do this park justice. It's one of the most beautiful places I've ever been to. The park had received a record amount of rain in the past year and had flooded beyond the normal flood lines – and washed out a lot of the roads. The park rangers put the road back in, but it created this beautiful water wonderland.
We drove around for 8 hours that day. We began to drive alongside the lake toward the north where there were a lot of water buffalo and fields. You could see the city of Nakuru from the north side not too far off in the distance. Then we drove south toward the lake again and ran into large amounts of baboons. They were hopping all around and making noise, but really ignoring the safari cars.
We then drove back down the west side of the lake where we found rhinos and zebras. The rhinos were lazing slowly and the zebras were in huge herds roaming about. We looked for flamingos, but there were far fewer flamingos than I would've liked to see.
Heading up a hill to a lookout point, we took gorgeous shots of the lake and hung out with lizards. Then on the way down we ran into Rothschild giraffes. It's truly amazing to see all these animals in their natural habitat, but you couldn't help but get the sneaking suspicion that Africa is just one giant petting zoo. (Oh my god, I wish I could actually pet giraffes).
We stopped a bit for a terrible lunch of soggy fries (our unhappy tour operator completely stiffed us as we decided not to do Masai Mara with him). Then we drove around a bit more and hung out at the Lake Nakuru Lodge where… THEY TOOK AMERICAN EXPRESS (civilization!!!!). I was so excited to get drinks and eat a lot of food.
Afterwards we headed back up the east side of the lake where we saw hyenas, wildebeest, and Yaya fell asleep in the back of the safari vehicle.
Our driver dropped us back in town and the mother from the host family drove us back to their home. We were led into a room with bunk beds and then we had tea in their living room with the kids. Very friendly family and a talkative kid.
We then had dinner with the whole family and didn't hang out very long, instead opting to head upstairs and sleep.
The next morning we went to the Pegu Tours office to get into the safari van to begin our drive to the Masai Mara. First off, we stopped in Longonot to pick up a family that would be with us for the next 3 days. Turns out it was a family of 5. Mom, Dad, son, daughter, and BABY. Yes, they brought a BABY on safari…
Well, then we went on our 5 hour drive to the Masai Mara, 2 of those hours spent on a dirt road. We arrived to camp in the late afternoon, but that gave us enough time to still go into the big park for a quick drive around.
To complete:
Drive to the Maasai Mara
Camp site
New Maasai friends, buying cloth
Lions, cheetahs, gazelles, oh my!
Driving back to Nairobi, the car sliding off to the road
Meeting Yaya's friends and his lovely expat family
Indian food
Back to America!